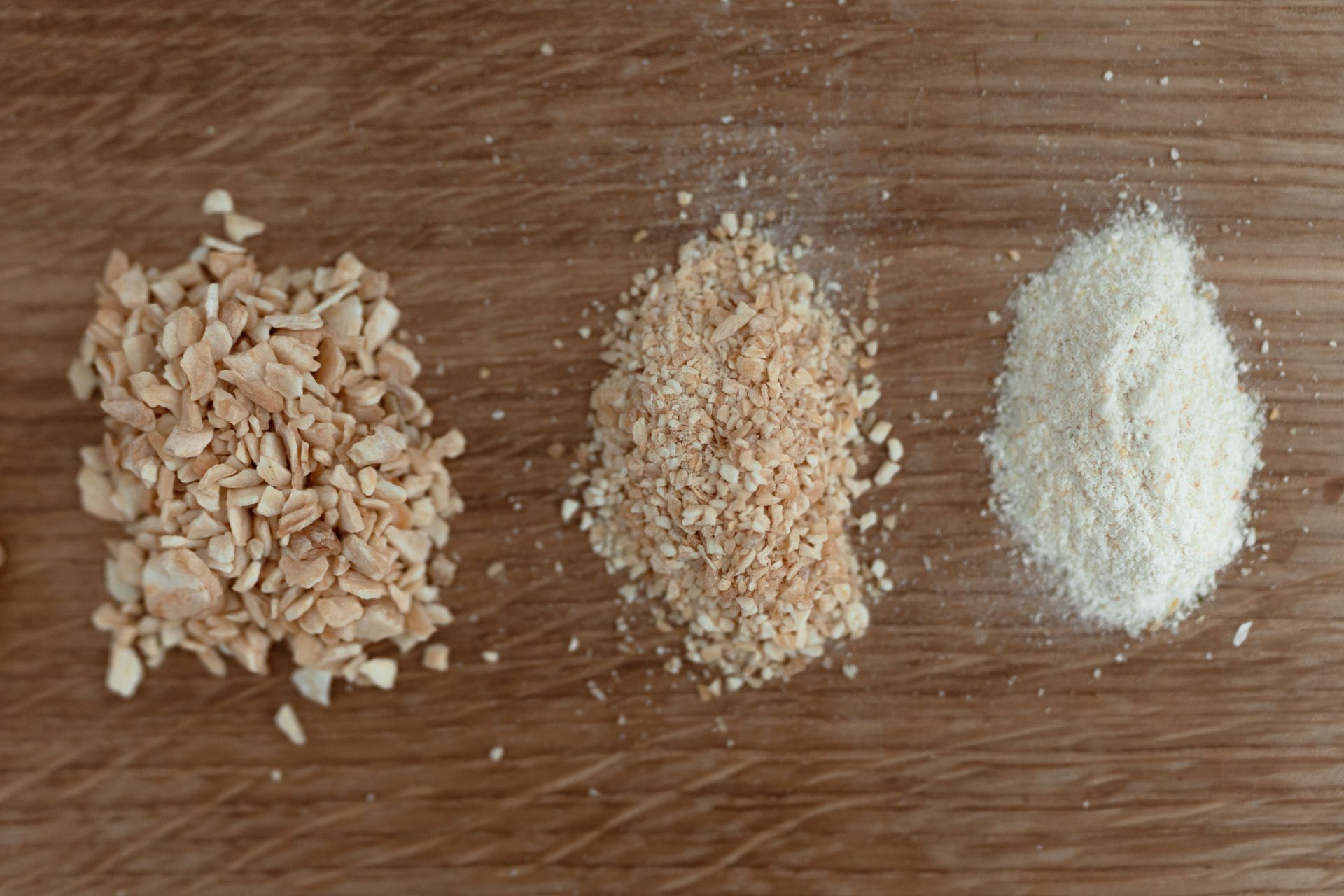 Mūsdienās ķiploki pieejami dažādās formās un veidos. Tāpēc bieži rodas jautājums, kad un kur izmantot katru no šiem veidiem? Kādas ir kaltētu ķiploku priekšrocības? Kam noder ķiploku granulas? Vai kaltēti ķiploki ir tik pat stipri, kā svaigi? Šeit uzzināsiet kad labāk izmantot pulveri, kad granulas.
Kaltēts ķiploks ir pieejams gan smalka pulvera veidā, gan dažāda rupjuma granulās. Protams, ir lieliski, ja mājās vienmēr pieejami ir gan svaigi ķiploki, gan kaltēti ķiploki un ķiploku granulas. Visvienkāršākais variants, kā izvēlēties ķiploku viedu ir atkarīgs no ēdiena gatavošanas ilguma. Ja ēdiena pagatavošanai nepieciešams ilgāks laiks, labāk pievienot granulas. Ja process ir ātrs, tad pulveris būs īstā izvēle. Ja ķiploku kaltēšana ir veikta pareizi, tad visas labās ķiploka īpašības un stiprā garša tiks saglabāta.
Kur izmanto ķiploku granulas?
Granulas ir ļoti ērti izmantot marinādēm un zupām, jo ​​lieliski savienojas ar šķidrumiem. Tāpat tos var ļoti labi pievienot sautējumiem, cepetim, kā arī citiem cepeškrāsnī gatavotiem ēdieniem. Tāpat tas būs izcils papildinājums grillējot tikko nozvejoto līdaku.
Maisot un veidojot savas garšvielas. Izmantojot garšvielu dzirnaviņas, saberžot granulas, piemēram, ar himalaju sāli vai citām garšvielām tiksiet pie vienmērīgi sajauktas garšvielas.
Tāpat bieži vien svarīgs ir arī granulu rupjums. Gatavojot salātus, ideāli piestāv vidēja rupjuma granulas vai drupināti ķiploki.
Kam vislabāk izmantot ķiploku pulveri?
Ķiploku pulveris vislabāk noder receptēm ar īsu gatavošanas laiku, jo tas ātrāk izdalīs garšu. Turklāt pulveris sniegs intensīvāku ķiploku garšu. Mērcēm, salātiem, sajaucot to kopā ar majonēzi, krējumu. Sagatavojot dārzeņus vai gaļu cepšanai. Arī gatavojot ķiploku grauzdiņus pulveris būs lielisks palīgs.
Vai pulveri var aizstāt ar granulām?
Ko darīt ja beidzies ķiploku pulveris? Vai to var aizstāt ar granulām? Protams to var darīt, taču jāievēro daži nosacījumi.
Ķiploku pulveris ir daudz smalkāks, tāpēc tāds pats granulēto ķiploku daudzums būs mazāk iedarbīgs. Ja ēdiena pagatavošanas recepte prasa pievienot ķiploku pulveri un Jūs to aizstājat ar ķiploku granulām, būs nepieciešams palielināt daudzumu. To var darīt pēc sekojošas formulas 1 tējkarote ķiploku pulvera = 2 tējkarotes granulētu ķiploku. Protams, šī formula darbojas arī otrā virzienā. Ja nepieciešamas granulas, bet Jūs aizstājiet tās ar pulveri, tad daudzums būs jāsamazina.